The Kaweah Health Lifestyle Fitness Center Scholarship Program
Designed for Those with Medical & Financial Needs
The scholarship program at The Kaweah Health Lifestyle Fitness Center is for individuals with a medical and financial need.
Appropriate diagnoses may include:
Arthritis
Morbid obesity (BMI # required)
Fibromyalgia
Osteoporosis
COPD
CAPD
Cardiac disorders
Others as approved by The Kaweah Health Lifestyle Fitness Center medical director
Space is limited on this program. Please see the membership department for more information.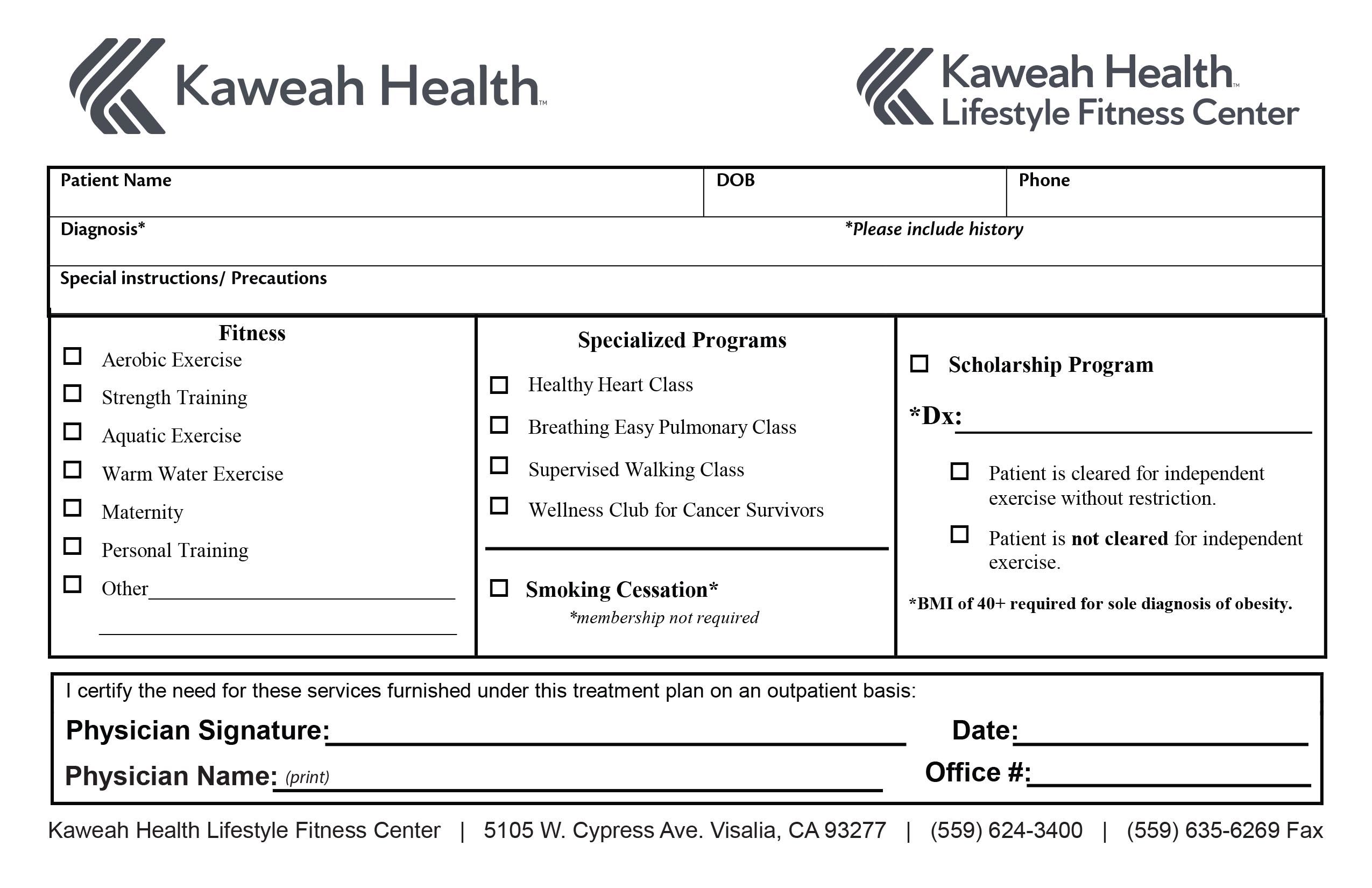 To apply, bring the following information to The Kaweah Health Lifestyle Fitness Center membership department:
Physician Referral or Prescription Containing:

Any and all clinical diagnosis (no coding)
Clearance for independent exercise

Financial Information (Bring proof of ALL income being received in the household. If you receive another form of income not specified below, please provide your documentation for consideration)

Most recent tax return or W-2 statement
Most recent Social Security or SSI benefits statement
Most recent 3 months of pay-stubs
Most recent 3 months of complete bank statements
Upon qualifying, the participant will receive:
Full membership privileges
Sliding scale for monthly dues per income
Evaluation by an exercise physiologist with follow-up evaluations as needed
Program Design (if resistance training is appropriate for diagnosis)
In order to maintain the scholarship, the participant must utilize The Kaweah Health Lifestyle Fitness Center at least three days per week, acute illness excluded. Lack of utilization and/or failure to pay reduced monthly dues will result in being discharged from the program.